How To Get Your Soccer Coaching License In The USA
Soccer is one of the most popular sports in the USA as well as the entire world. Some people choose to play it for fun, while others undertake it professionally as a career. Others get fun from watching it and supporting their favorite teams. If you love soccer as much as I do, you can also undertake soccer coaching as part of your career or a way of getting fun and enjoyment from the sport
The most significant step, however, lies in how to get your soccer license in the USA. This useful article aims to help you get a soccer coaching license and build a coaching career.
Coaching Experience Alone Is A Limitation
It is common to see someone starting off coaching a team with minimal experience other than having played soccer in the past. But there may come a time when you have to start thinking about getting your soccer training license.
This is especially true if you wish to coach high school soccer or in another role higher up on the career ladder. As the job opportunities start to look better and better, you will see that the job requirements will also begin to change, and coaching experience alone won't cut it.
Should You Get A Soccer Coaching License, Do You Need One?
Likely the decision to become further qualified is influenced by several factors. One of those being the want to climb higher up the career ladder; which comes with more responsibilities and pressures that require the coach to have the necessary qualifications to handle them. Even though it does consume your time, money, and effort, investing in a coaching license helps you improve as a coach and widens your career prospects.

Getting a soccer coaching license does not just enhance your skills, technical and tactical knowledge but it also improves your overall communication, which is necessary for being a great leader and motivator. You will learn how to be a mentor as well as a skills coach and learn techniques to inspire and develop the characters of your players.
With all of the above in mind, how do you get your soccer coaching license in the USA?


The first question to ask yourself before thinking of getting the license is, what does the entire soccer coaching certification entail?
You already know that your role as a soccer coach encompasses an array of duties and responsibilities. Therefore, the coach is expected to not only coach but also manage, lead, mentor, and be a role model to the team. Consequently, you must equip yourself with all the necessary skills and capabilities to help you develop and improve the players. Some of the most significant things that you must learn while preparing to get the license include tactics and strategies, how to prepare and run the team's training sessions, and effective leadership skills.


In addition to the above, you must also take time to understand other crucial soccer aspects such as basic first aid, laws of the game, nutrition, how to prevent injuries, and many other things that make the game productive and safe. After all the above, you can now check out some of the soccer coaching courses offered in your locality based on the info given below:

In The USA, there are different pathways that you should follow to get your soccer coaching license. The courses take variable durations to complete, and they become more challenging as you move up the ladder.
Grassroots Coaching
Introduction To Grassroots Coaching marks the beginning of your journey as a licensed soccer coach in the USA. Luckily, it can be done online for free via the U.S. Soccer Digital Coaching Center, and takes only 20 min.
The modules and workshops that follow, demand your presence even though you can still complete a few of the initial qualifications online. Some of the things you learn at this point include setting up age-appropriate training sessions and running small matches.
U.S. Soccer has made it so that coaches at all levels can access and education that fits their goals and courses to help them achieve that.
The Coaching License Pathway is made up of courses created to address the individual requirement of each coach from start to finish. They have provided a variety of tools, guidance, and mentorship to help you gain the necessary qualifications to move forward.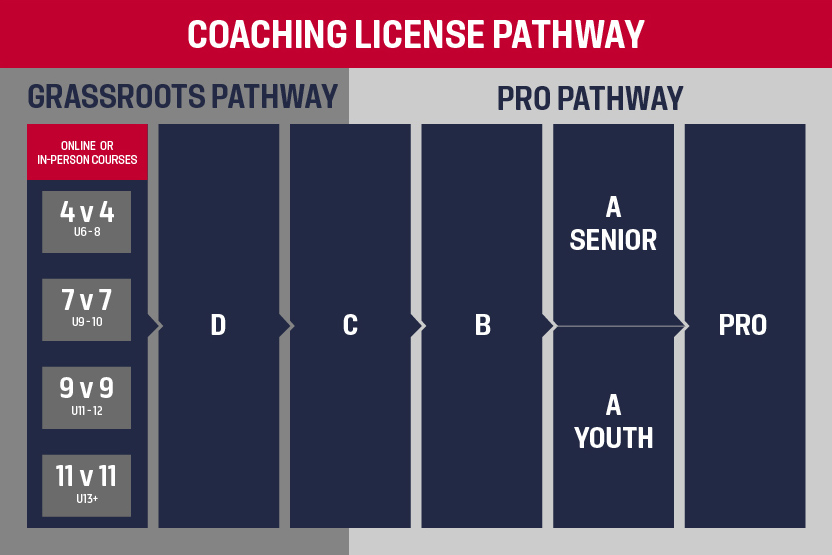 After the Grassroots courses, there some tougher and more time-consuming awaiting you as an aspiring soccer coach. There is the D course that comes immediately after the above qualification. The courses become more difficult and tougher until you reach the Pro Pathway Course, which allows you to qualify and professionally work with the US soccer players.
Over the 12-month course duration, you will be required to attend multiple meetings, training sessions, webinars, listen to experienced guest speakers, and visit some clubs.
Conclusion
While some courses can complete quickly and easily, others take a couple of years of coaching experience to apply and pursue.

Being a licensed soccer coach allows you to learn how to run soccer teams and equips one with an array of knowledge and skills useful in everyday life.